Features
The Hyphen Eshot Manager offers everything you need to run successful email marketing campaign.
Try it for free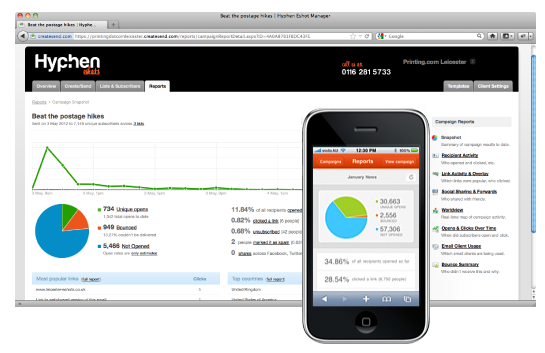 Never touch that spreadsheet again…
We take all the pain out of list management by handling the messy stuff like bounces and unsubscribes automatically. Whether you've got a small list, or need to get your hands dirty with segmenting and personalisation, we've got you covered.
CUSTOMISE SUBSCRIPTIONS
You can create as many different lists as you need and you only need to pay when sending a campaign, so list management is free.
Even better than that, you can completely customise the signup and unsubscribe process for every list. Set your own landing page for new signups and schedule automatic welcome messages when they confirm their subscription.
TARGET YOUR CLIENTS
Extend your lists easily to capture anything and everything about your subscribers. Whether it's their address, phone number or hobbies and build segments in your list that target a specific type of subscriber.
You an also segment using information you have gathered on your previous campaigns, for example only sending to those subscribers that opened the last 3 emails or clicked a specific link.
Design and send beautiful emails
Using our free templates, creating a new email campaign has never been easier. Simply click and type with an easy to use word-like editor. Add images, columns links and content yourself with no need to hire a web designer. Easy.
Are you a web designer? Don't worry, the Hyphen Eshot Manager allows you to upload your own eshots too!
A/B SPLIT TESTING
Not sure if you are getting enough impact from your campaigns? Our A/B testing feature allows you to st two different subject lines and see which one generates the most interest. Or, you can design two completely different emails and see which one gets the most clicks. Our system will send the two emails to a selection of of your list and then automatically sends the most popular version to the rest of the list.
FULLY TESTED
Testing your design in the many different email clients is always the messy part of sending and creating eshots. With Hyphen Eshot Manager, you can end free tests to any addresses you like, or for a small fee you can see your email as it appears in over 20 different email clients. We also run your campaign through popular spam filters at the desktop, server and firewall level before you send it.
AUTORESPONDERS
Autoresponders allow you to keep in touch with your subscribers without any hassle. You can quickly set up a series of automated messages, birthday greetings and other date-based campaigns and then sit back and let us do the rest.
Live analytics as soon as you have pressed send
The same instance you press send is the same moment Hyphen start tracking your email and provide live reports to show you exactly how your subscribers are interacting with it.
You can find out who has opened it, what links they have clicked and how many times, who they forwarded it on to, whether they unsubscribed, bounced our even thought it was spam.
FULL STATISTICS
As well as finding out who has opened it, shared it, forwarded it you can also see on a map, in real-time, where its happening. Worldview also includes a neat breakdown of where all your subscribers are located across the globe.
SOCIAL IS THE FUTURE
Hyphen Eshot Manager includes a social sharing feature making it easy for you to share your campaigns on Twitter and Facebook and then see a great looking report on who retweeted.
SUBSCRIBER REPORTS
Our reports make it easy to narrow your statistics down to subscriber level and see a timeline of exactly what they did with your latest email, as well as seeing a lifetime history with that person.
COMPARING CAMPAIGNS
By comparing stats like opens, clicks, bounces, unsubscribes and even spam complaints, you can quickly see what content your subscribers find relevant, and just as importantly, what they don't.
CREATE
Design with your favorite programs
Import with a single click
Autoresponders and drip campaigns
A/B Split Testing
Automatically moves your CSS inline
See screenshots of your email in 20+ email clients
Build re-usable templates
Simple WYSIWYG editor for clients
Personalisation
Forward to a Friend
Send in any time zone
Run your email through popular spam filters
Free campaign archive
Powerful reports on the results
No 'powered by' logos or links
Send through our API
Google Analytics integration
Free template gallery
Images served from lightning-fast CDN
MANAGE
Unlimited number of lists
Subscribe forms for your site
Customise the subscribe process
Confirmed Opt-in
Preference Centers
Suppression lists
Customise the unsubscribe process
Custom fields
Segmentation
Manage via the API
Export to Excel
Track list growth via RSS
Flexible import process
ANALYSE
Great looking interactive charts
Google Analytics integration
Open and click tracking
Forward to a Friend reports
Unsubscribe reports
See which email client subscribers are using
Bounce reports
Spam complaint reports
Track conversions and ROI
Compare multiple campaigns
Full activity for each subscriber
Export reports to Excel
Access via the API
Top notch deliverability